Honoring a 40-Year History of Service
In 1974, the California Master Plan for Special Education was developed, calling for each school district and county office of education (COE) to create a consortium in geographical regions, with the intent of providing a continuum of special education services withing their boundaries. In 1977, all school districts and county school offices in California were mandated to form consortia of sufficient size and scope to provide for all special education service needs of children residing within the region boundaries. Each region, or Special Education Local Plan Area (SELPA), developed a local plan describing how it would provide special education services. The regional structure made practical sense for our large and diverse state, and was intended to allow enough flexibility to accommodate districts of all sizes in providing a full continuum of supports and take advantage of economies of scale. SELPA's were also expected to help districts ensure legal compliance.
The Butte County SELPA was established in 1980 for the purpose of ensuring a continuum of special education services and placements; training, monitoring, and fiscal support; and advocacy and empowerment for students with disabilities and their families inside and outside the school system. In fact, we are celebrating our 40th SELPA Anniversary in 2020!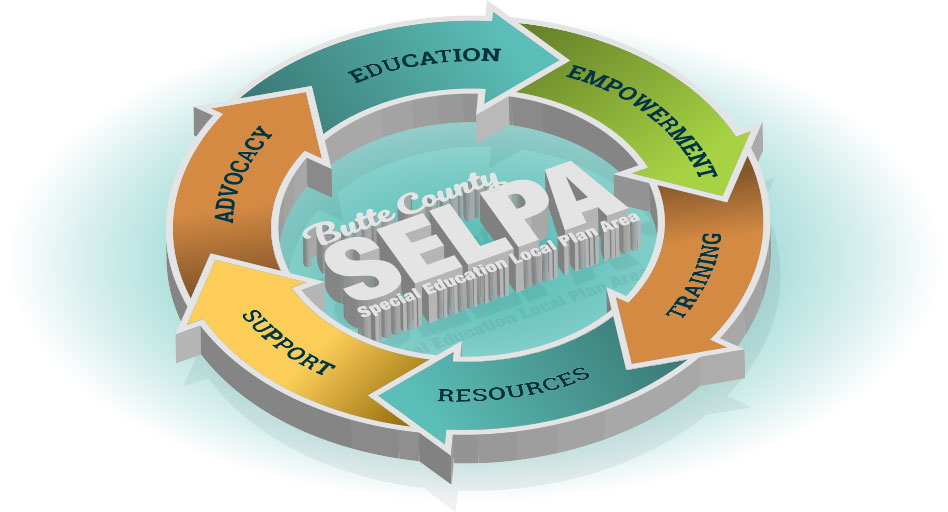 SELPAs have assumed responsibility for providing services to infants and toddlers with disabilities. We support community-based services for transition age youth (ages 18-22). Supports for students with Low Incidence Disabilities or Mental Health needs are also coordinated through SELPAs. We work to identify and develop services for children ages 0-22 with a disability in our region, and to ensure high-quality placements and specialized services for these children.
SELPAs also help to ensure compliance with IDEA mandates, manage due process disputes, and submit multiple state and federal reports for the local educational agencies within our boundaries. SELPAs have developed mechanisms for distributing funding equitably across districts with disparate population demographics, size, geography, and resources. We serve as liaisons between local educational agencies and the state and federal government. This allows for local agreements to be developed that are sensitive to our particular region, and helps take some of the burden of some special education administrative, planning, and financial burdens off the shoulders of local entities. We have developed our collaborative decision-making process with voices of the local district superintendents and the parent voice included in the process.
SELPAs continue to work toward strengthening a single, coherent system of supports within education, and are committed to best practices and creative solutions. We are working to improve both transparency and accountability within the SELPA framework.