Behavioral Supports
Butte County SELPA's Behavior Support Services (BSS) provides behavioral consultation, collaboration, and support to students and their individual education plan team members. While the primary point of contact for behavior is our SELPA Board Certified Behavior Analyst, Tara Yarberry, other SELPA staff such as Program Specialists, Mental Health Coordinators, and other professional staff also collaborate on cases involving challenging behavior.
Professional development opportunities in the domain of behavior analysis occur regularly throughout the school year, and specific trainings and workshops may be provided on request of district administrators. To find out more about behavior-related offerings, please visit the Professional Learning page of this website.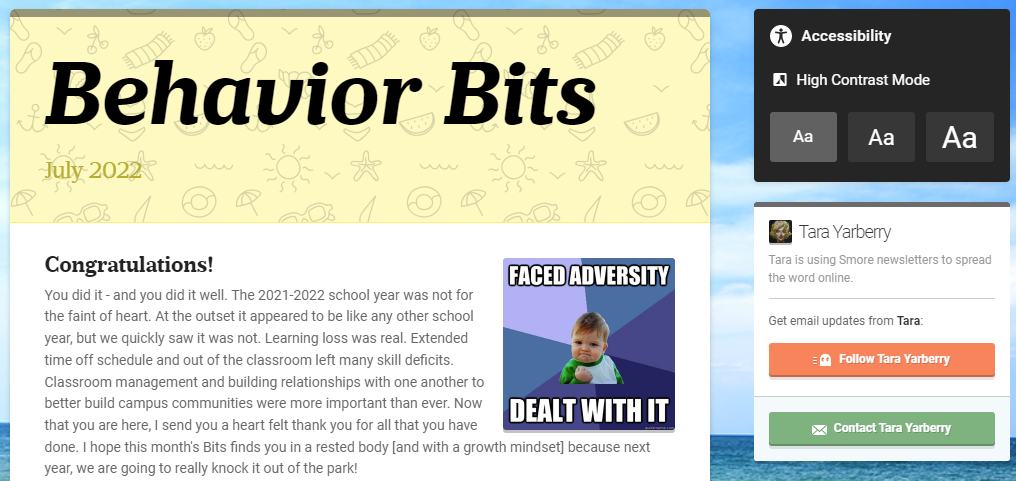 Parents and care providers can access behavior supports through workshops offered through the Community Advisory Committee (CAC) or by sending an email to selpasupport@bcoe.org.
<-- CLICK on the image at the left for the Behavior Bits Newsletter.
Our resources are managed through the Behavior Support Padlet and include monthly Behavior Bits newsletters, coaching through the CAPTAIN Cadre, trainings aligned with PENT recommendations, consultation infused with PBIS principles, and participation in weekly SELPA Collaboration Meetings. Our SELPA participates in behavior-related networks including CAPTAIN and PENT, and we attend CAL ABA and PBIS conferences annually.

Links for Behavior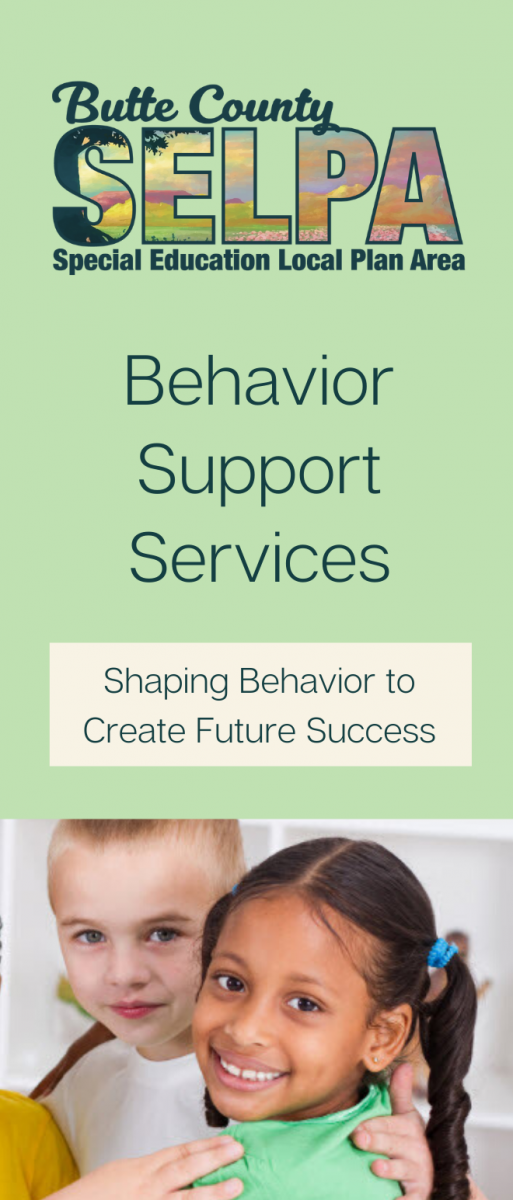 AFIRM Modules - Autism-Focused Intervention Resources and Modules - for the self-motivated learner, from the University of North Carolina at Chapel Hill
Butte County SELPA Behavior Padlet
CAL ABA - California Association for Behavior Analysts *
CAPTAIN - California Autism Professional Training and Information Network *
PENT - Positive Environments Network of Trainers *
PBIS - Positive Behavior Interventions and Supports *
SELPA Directors' Council Procedures for Behavior
SELPA Governing Board Policy Behavior
Click BELOW to travel to Mrs. Yarberry's "Virtual Office" and explore various topics in Behavior, and click on the IMAGE at the right to download our brochure.