What is a SELPA?
In 1977, all school districts and county school offices in California were required to form geographical regions of sufficient size and scope to provide for all special education service needs of children residing within the region's boundaries. Each region became known as a Special Education Local Plan Area – SELPA.
Today, there are over 130 SELPAs in the State. The SELPA governance structures vary in form, including models for Multi-District SELPAs, Multi-District/County Office SELPAs, Single District SELPAs, Multi- District/Multi- County SELPAs, County SELPAs with Joint Powers Agreements, and Charter only SELPAs. Size and scope also varies across the state. Each SELPA has a Local Plan describing how it provides special education services. Specific components to be included in the Local Plan are delineated in the Education Code.
The SELPA Administrators of California is a statewide association consisting of nearly all SELPA directors, who meet regularly to obtain the latest information on data and compliance, best practices in student programs, legal updates, state updates, and important information in all related areas that support student success.
The California Department of Education website contains further detail about SELPAs: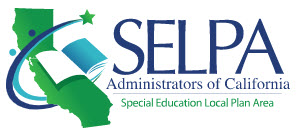 https://www.cde.ca.gov/sp/se/as/caselpas.asp
The SELPA Administrators of California website is at:
https://selpa.info/
The SELPA Administrators Brochure contains further detail:
SELPA Administrators of California brochure
The SELPA and member local education agencies (LEAs) foster coordination between general and special education for prevention and early intervention of suspected disabilities. The SELPA also ensures appropriate education services for individuals with disabilities by working cooperatively with other public and private agencies to support a full complement of special education services for students. Each SELPA must have an Administrative Unit (also known as the Responsible Local Agency), which serves as the legal entity that receives funds. In some instances, the Administrative Unit is a school district and in other instances, it is the county office.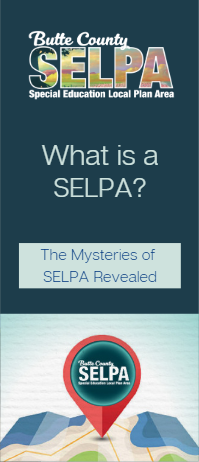 Costs for SELPA operations and the Administrative Unit are provided by funding from the state, which may be augmented by local, federal, and state funds. Each region determines the funds available for regionalized services and the responsibilities of the SELPA office. The SELPA policy-making body is designated in the Local Plan to make policy decisions, approve the SELPA budget and Allocation Plan, and direct SELPA operations.
Click the image on the left to download our brochure.
SELPA responsibilities include such things as:
Ensuring program availability for all children with disabilities
Governance committees, including the Community Advisory Committee
Assistance with understanding compliance requirements
Transition planning
Program coordination
Fiscal management, and budget planning and review
Staff development
Curriculum development and support
Special education data reporting to the State
Regionalized services and program specialists
Interagency coordination
Program evaluation
Community awareness
The Goals of SELPAs
Even though there are many organizational structures for a SELPA, all SELPAs have the same basic goal: to deliver high-quality special education programs and services to students with disabilities in the most effective manner practicable. SELPAs believe that all students can learn and that students with special needs must be guaranteed equal opportunity to become contributing members of society. SELPAs facilitate high-quality educational programs and services for students with special needs and training for parents and educators. SELPAs collaborate with county agencies and LEAs to develop and maintain healthy and enriching environments in which students with special needs can succeed. Strategies employed to achieve these and the following goals include: responding to specific areas of local, state and public concerns; emphasizing the need for effective special education services to improve educational and life outcomes for students with disabilities; and organizing special education administrators and special education staff members with the SELPA for support of common education goals.